Training at MAPAL
As part of her training as an industrial clerk, Lena Klaus gains valuable insights into business processes.
Genuine all-rounders work well in various business departments and carry out tasks in administration and management of business processes. Thanks to her training as an industrial clerk, Lena Klaus appears to have found her calling.
"In the commercial areas of the company, I provide assistance with orders, processing queries, preparing quotes and creating purchase orders. In some departments, I also assist with analysing and processing data", says Lena, summarising her varied range of tasks. She started her training as an industrial clerk at MAPAL in September 2019.
After completing secondary school, the trainee from Göggingen first completed a voluntary social year before deciding to study architecture. Due to the various jobs she took on during the holidays, she noticed that accounting and organisational tasks suited her well. This inspired her to seek a profession where she could receive hands-on training. She had intensive discussions with her parents, who both have many years of experience in business careers. "From this moment on, it became clear to me that this was the direction I wanted to go in and that training as an industrial clerk would provide me with the broadest range of opportunities for my future. At a health insurance company, I would probably have been limited to the health and insurance industries, and even in public services employees often end up stuck in a particular area", Lena reckons. As one of the largest employers in the region, Lena had already heard of MAPAL. "I've driven past the company premises many times and knew that they were active in the tool sector." When she researched the training content during her application process, MAPAL was immediately put on her shortlist. "The fact that MAPAL is both a family-run and a global company was a decisive aspect for me, as it would allow me to gain a varied perspective during my training", explains Lena.
"Here, I've learnt what it means to work in a structured way and how to correctly prioritise tasks. I'm very happy that I chose MAPAL. It's becoming more and more clear to me that being a industrial clerk is the right career path for me."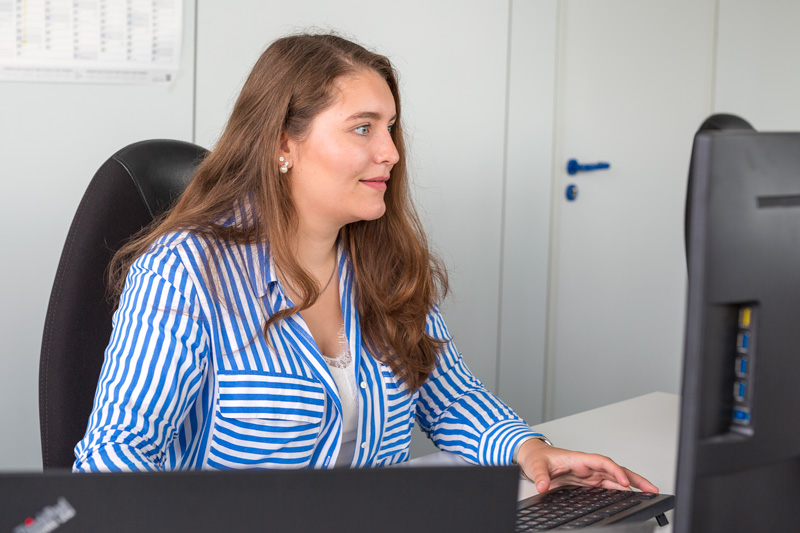 A journey through company areas
Lena is consistently impressed by how many departments there are at MAPAL and how wide-ranging the various products and services are. The trainee industrial clerks work in almost every area of the company over their three years of training. They change placement every eight to ten weeks, which gives them the opportunity to work in the various departments and receive insights into the way they operate. Lena has already assisted the teams in Marketing, Goods Receipt, Purchasing, Shipment, Tool Management, Mechatronic Systems, Quality Management and Exports. She feels most at home with tasks in which there is direct communication between the technical and commercial areas. "Being a trainee, this experience has given me much more than I expected. It has been very interesting learning so much about our products and tools. I also believe it is important for my own work to have a solid understanding of what we are buying and selling", Lena clarifies. A project she particularly remembers was working in Sales, when she was involved in creating an extensive quote to equip new machines. "I think the final quote had over 100 lines of items, and then there was the order. That was one of the first moments that it hit me just how massive MAPAL is. I'm proud that I was involved in this and was able to make a contribution", says Lena happily.
Foundation of practical knowledge
Lena particularly values the communication aspect of her traineeship. She enjoys being in direct contact with customers and suppliers when checking deliveries or deadlines. She takes part in an in-house English class once a week. Learning a foreign language is a lot different in a business context than at school and requires sticking to a routine. When questions arise, she approaches her colleagues on her own initiative meanwhile. Thanks to the friendly company atmosphere, her initial anxiety subsided. "You can always sense the family-like working atmosphere. I feel comfortable here. It's the same in every department I'm in. Everyone is always very open and friendly", Lena remembers. Her relationship with other industrial clerks is also excellent. "We are a close group, have a lot of team projects and support each other", she adds. Induction into the company is also supported by the many training sessions offered by the MAPAL Academy, which prepare trainees well for the challenges their departments will throw at them. In intensive training sessions, Lena learnt things such as the SAP inventory control system as well as the details of customs clearance, and which shipment and trade rules need to be followed.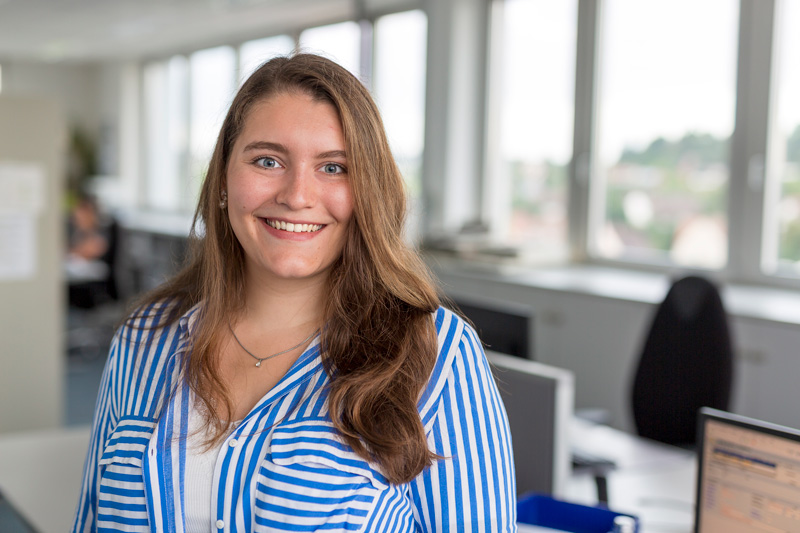 My kind of thing
At MAPAL, independence and teamwork are valued abilities, which is why trainees are encouraged to develop these skills. "Here, I've learnt what it means to work in a structured way and how to correctly prioritise tasks", Lena summarises. She also uses these talents in her free time, by helping her local music association ("Leinzeller Musikverein") when organising and planning events. She's not finished yet, but Lena's interim conclusion is as follows: "I'm very happy that I chose MAPAL. It's becoming more and more clear to me that being a industrial clerk is the right career path for me."
その一端を担ってください。
---
Entry opportunities for school pupils
School-leaving qualifications within reach: together as you embark on your working life & career
You'll soon be starting your professional career – and with it a new chapter in your life. 
Find out which training and study opportunities you have at MAPAL as well as what the requirements are and which dates and formalities you need to observe. We support you with helpful tips for making your application strong.
Training sites and contact