Training at MAPAL
Philipp Rottenbiller explains what inspired him to start an apprenticeship as an IT specialist in application development.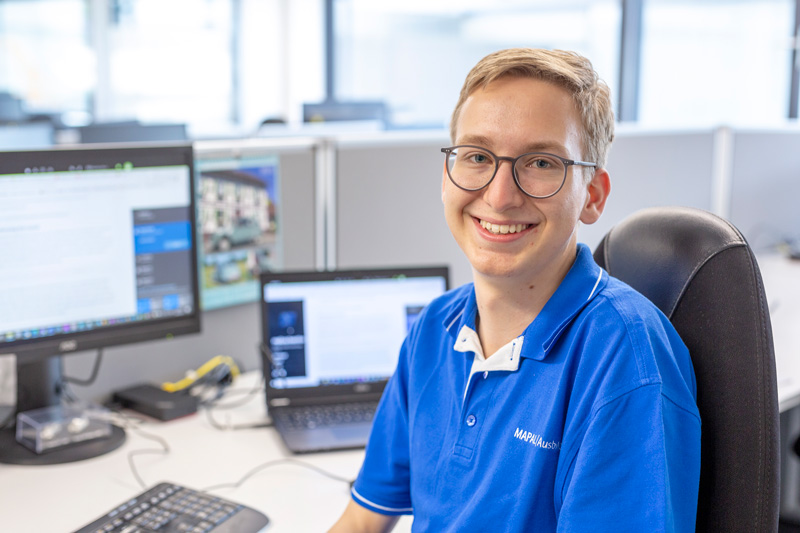 The best possible work experience takes place behind the scenes at the company's headquarters in Aalen, near Stuttgart in southern Germany. As a trainee in IT application development, Phillip sup-ports his co-workers at MAPAL with their technical work.
"Whether it's software packages, programming or problem resolution in IT support: I love the broad spectrum of tasks that I'm being offered in this job", reports Philipp, who is impressed by his varied work in IT Client Management.
While being at secondary school in 2018, he became interested in a career as a cutting machine operator and even completed a one-week work placement at MAPAL. He's known about the company for a long time, as one of his relatives also works here. When he learnt his first programming language (Python) two years ago, it quickly became clear to him which direction he wanted his career to go in. "What fascinates me about programming is how you are presented with challenges first and then the job turns into finding solutions. For me, IT is the future. In programming, you can do almost anything as well as also achieve almost anything", he says, justifying the reasons behind his decision.
"If programming excites you and you enjoy it, it's the right career path for you. For anyone interested in working in IT, MAPAL is the place to be."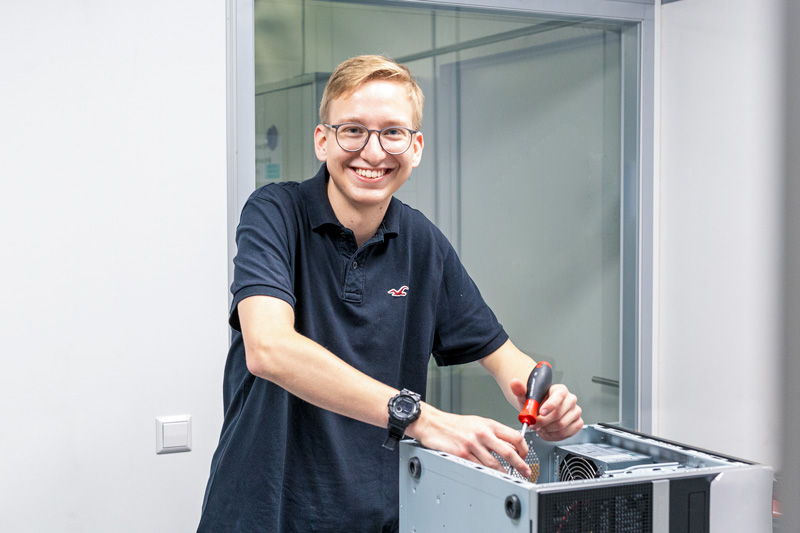 Between software packaging and troubleshooting
He usually starts his working day at 7am. He's happy to be there so early so that he has more of the day to himself once work is over. However, there is no 'typical working day' for Philipp. It all depends on which area he is working in at the time. The first year of training is the same for all newcomers in IT. During this year, there's no distinction between system integration and application development, as the focus is always on the basics. For example, trainees learn how a PC is put together and how to familiarise themselves with the network and IT infrastructure. In the first year of training, they also work in IT Service where they often receive tickets from MAPAL colleagues from all over the world who need help with technical issues. "Anything can happen on the IT hotline. There are days that are more stressful than others because there is a high number of callers or error messages occur that you've never seen before. Certainly, there are other days that are much more relaxed", Philipp summarises. Most recently, he has been working primarily in IT Client Management. There, he packaged software – in other words, rewrote data packages so that they are suitable for automatic distribution to all of the computers in the company. He greatly enjoys the combination of providing direct support and the calmer, more focused activities. As for now, he's particularly looking forward to his next placement: programming in application development.
Quenching a thirst for knowledge
"MAPAL is a family company which operates globally. I noticed that right from the very beginning", Philipp reveals. "The atmosphere is unique. My colleagues always have a sympathetic ear for me and are incredibly helpful." In the dynamic world of IT, ongoing training is crucial. Philipp does a lot to keep up to date. He frequently takes part in full-day workshops on certain subjects which take place at the MAPAL Academy. He has recently learnt about the Cloud computing platform Azure. His passion also spills over into his free time. He currently hosts his own web server, develops a database-based online portal and educates himself with online tutorials. However, he also likes to properly unwind in nature. When he isn't running through lines of code, he zips through the countryside on his mountain bike.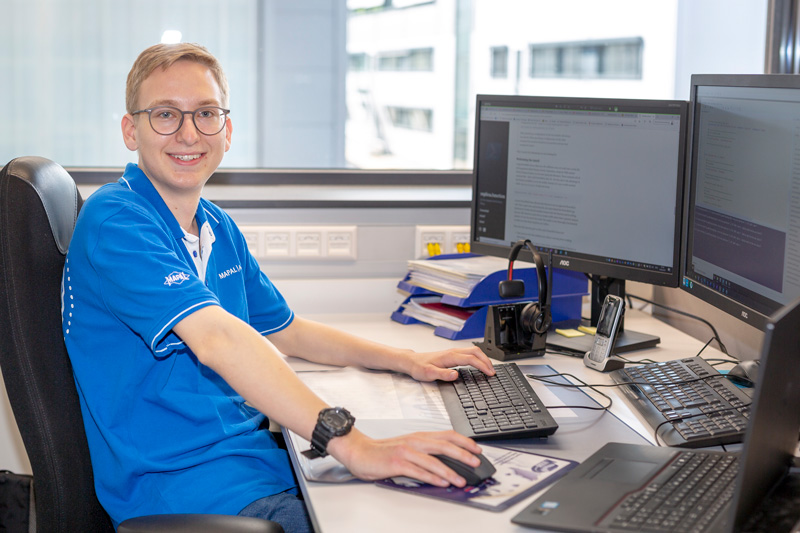 Motivation is key
"You don't have to be good at maths to learn programming. It's much more important to be able to think logically", Phillip says, advising everyone who is interested in training to become an app developer but is still unsure whether they meet the academic requirements. "If programming excites you and you enjoy it, it's the right career path for you. For anyone interested in working in IT, MAPAL is the right place to start", Phillip says, enthusiastically recommending his employer.
その一端を担ってください。
---
Entry opportunities for school pupils
School-leaving qualifications within reach: together as you embark on your working life & career
You'll soon be starting your professional career – and with it a new chapter in your life. 
Find out which training and study opportunities you have at MAPAL as well as what the requirements are and which dates and formalities you need to observe. We support you with helpful tips for making your application strong.
Training sites and contact