Dennis Sandig, Product Owner and Application Manager at MAPAL in Aalen
Technical progress is being driven forward at MAPAL not only in the machining world itself - but also in the area of digitalization. But what does that mean in concrete terms? Dennis Sandig, who has been with the company since 2018, reports on his IT projects at MAPAL.
"For our customers, we sometimes design special tools that are really absolutely unique in their shape - manufactured for a very special purpose for a very specific business partner. There, for example, we provide technological support with variant configurations and digital processes", explains Dennis Sandig. The business informatics graduate employed as an application manager at MAPAL currently holds the role of product owner in a Commerce Cloud project. But he is also involved in other current digitization projects at MAPAL - and therefore knows the goals and challenges well.
And there are quite a few of them at MAPAL: The extensive product portfolio means that - just as with the tools - a standard solution would not be enough. "There is the 'normal drill', but there are also high-tech special tools that move the cutting edge into its end position, for example by means of pressure or centrifugal forces; it is simply unbelievable what we produce and in which applications our products are used," says Dennis Sandig. The digitization projects at MAPAL are correspondingly broadly diversified and with different demands.
"I thought to myself: 'Oh, yes, MAPAL. They produce some kind of drills'. But one must really say: This high level of specialisation in the product range cannot really be described in words."
All areas of the company are involved
For example, there is a project in which the force curve of the cutting process is measured, and the behavior of the cutting tool is modeled and analyzed using big data. Another project deals with the digital recording of repair orders. "For one of our customers, for example, we created an interface through which he can digitally pre-register a need for repairs. Very convenient for the customer, but for us this is a technologically highly complex topic, because we have tools with such small diameters that it is - let's say - very interesting to place a QR code there," says Dennis Sandig with a smile. From product development and product quality to cooperation with customers and partners, the digitization process permeates all areas of the company. For medium-sized MAPAL customers, for example, the developer team is currently developing an integration platform that bundles various digital service offerings as a hub. In addition, a shop solution is created for smaller customers who - unlike large B2B customers - do not have their own Enterprise Resource Planning (ERP) system, but still simply want to find and buy the right product.
Having a broad and deep knowledge is desired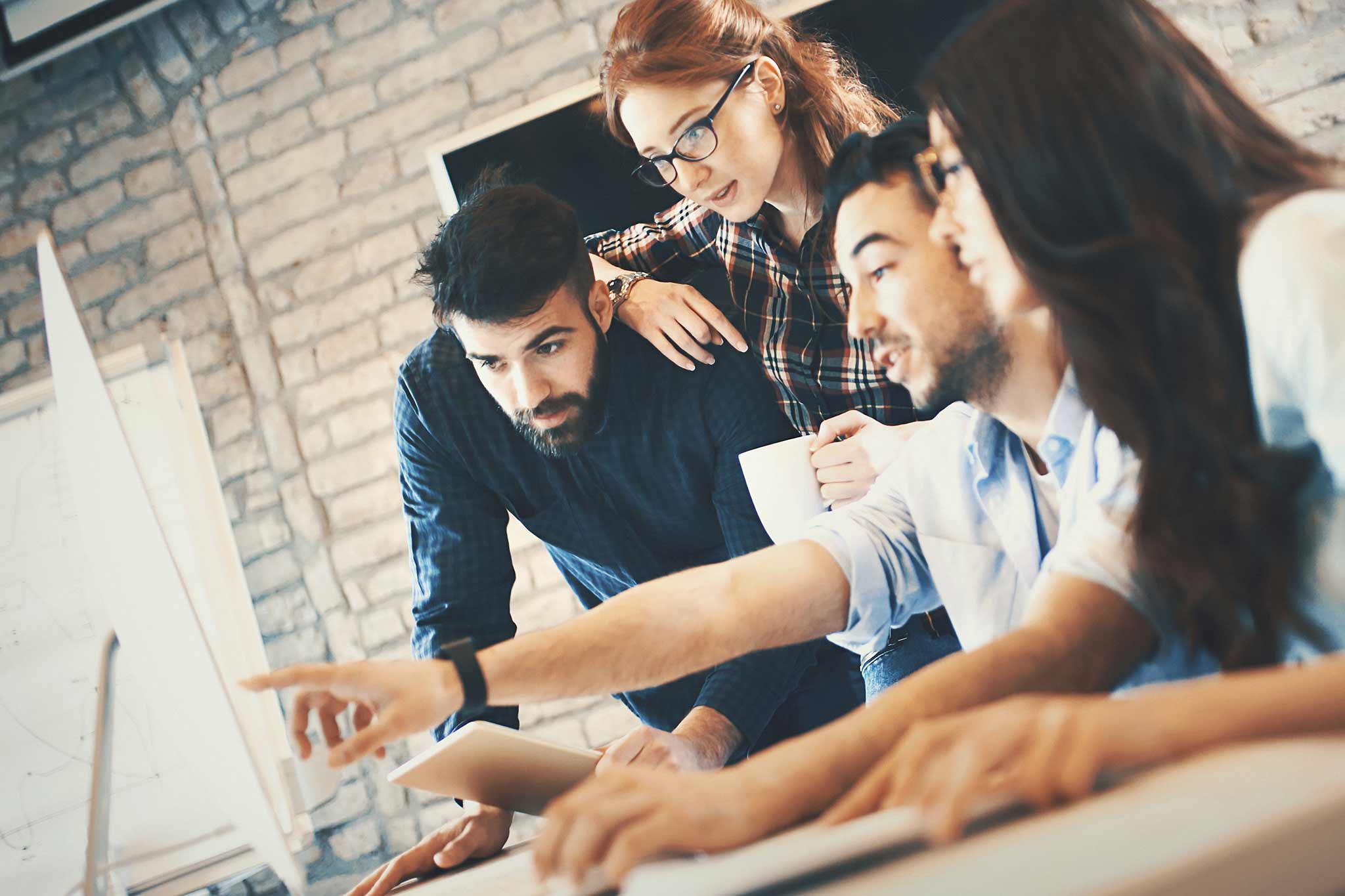 Of course, such multi-layered digitization projects are a demanding challenge for a developer who is involved as a product owner in a digital commerce cloud project. When Dennis Sandig applied to MAPAL at the time, he was not aware of the immense scope of the MAPAL product portfolio: "I thought to myself: 'Oh, yes, MAPAL. They produce some kind of drills'. But one must really say: This high level of specialisation in the product range cannot really be described in words." Despite or precisely because of the high level of specialization in many areas, MAPAL would like the workforce to acquire both broad and in-depth knowledge. The internal academy with its training program prepares 'newcomers' accordingly for the company and its products. "You get a 14-day introduction to the MAPAL product world - that is of course excellent, because how else should you build a shop system for products that you don't know." The fact that there is such extensive product training is a sign of the appreciation that MAPAL has for new employees, says Dennis Sandig.
 "It's really nice here at MAPAL. There's always one person who can fully address a technical question, there is always someone to share something with. That's the only way you can develop as well."
International team spirit
Dennis Sandig now knows the MAPAL world well - not least because of the close cooperation in the team, where people actively support each other. "This is really nice at MAPAL: There is always someone who can answer a technical question in full, there is always someone to talk to. This is the only way to develop further."
The diverse team, consisting of colleagues and service providers, not only works at the MAPAL headquarters in Aalen, but also in Bremen, Morocco, Spain or even further afield. The official project language in the development team is English. An advantage, because from Dennis's point of view many things can be expressed more concretely, as: "The development language is always English - I don't want to have to read a line of German Java code".
Right in the middle of digitization
In addition, this internationally tested way of working was certainly particularly advantageous during the lockdown period of the coronavirus pandemic. "Our development team are spread out all over the world anyway, so (sort of like before) we've been doing all our meetings online." Digitally analyzed machining processes, shop systems, digital repair registration: if he had to describe all current projects in one sentence - how would Dennis summarize digitization at MAPAL? He only has to think about it for a moment, then he says: "We build digital touchpoints for all our customers. Our aim is to really provide every customer with the right access to our company."
And you believe him immediately, the product owner from the Commerce Cloud project: Technical progress is being driven not only in the world of machining, MAPAL's core business, but also in digitalization.
Read more