MILLER GmbH & Co. KG, Präzisionswerkzeuge
Member of the MAPAL Group, Altenstadt
The Centre of Competence for solid carbide tools in Altenstadt has stood for technical progress, engineering skills and high-performance tools for more than 25 years. 
Around 490 employees, including more than 60 trainees, work at the Altenstadt site. Because here, too, we believe training and further education to be hugely important and are committed to your personal development and planning for your future.
---
Become Part of the Team
This input mask takes you directly to our career portal, where you can find out about vacancies and apply directly. The input mask also allows you to filter interesting positions using a preselection. 
​​​​​​​We look forward to your application!
---
Employee Benefits in Altenstadt
Enjoying a good work-life balance, having an attractive working environment and participating in forward-looking training opportunities – we share your view of modern working.
​​​​​​​We offer our employees the following benefits.
We regularly carry out occupational health examinations at the workplaces. In this way, we want to determine and maintain physical suitability for certain activities and identify any possible impairments as early as possible. Because your safety comes first at all times.
Of course, our employees can also contact the company medical service outside of these examinations if they don't feel well.
In our company canteen we offer a wide range of hot lunches, which are served to employees in meal trays. Food that employees bring in themselves can also be freshly heated. In the bright and spacious rooms, there is an opportunity to talk to colleagues during the main meal times.
In addition, snack and beverage vending machines are available throughout the company buildings.
We support our employees in building up an additional pension plan in order to be able to close any pension gap that may arise in retirement. For all employees, we also offer a monthly allowance for capital-forming payments.
Especially during the induction phase, mentors are on hand to offer you support and advice on a wide range of topics.
Space for personal commitments: As far as possible, our employees can decide for themselves when they start and finish work. Of course, this is done in consultation with the respective department and the other colleagues there. 
Employees working in shifts, trainees, interns and holiday workers work fixed hours because of their dependence on other employees. 
We make room for flexibility. That is why our employees also have the option of working on the go if required.
Our employees receive a company car, depending on their position and tasks.
Our company has grown as a family business – and we feel just like a big family. That's why we also want to celebrate together. Depending on the site, there are summer festivals, for example, or even our annual Christmas market. Our MAPAL Football World Cup or European Championship takes place every two years, bringing together colleagues from various sites across Germany and abroad.
Some events are only for employees, others are open to relatives and visitors. 
We are one MAPAL and recognise the achievements of our employees: That is why we honour long-serving colleagues once a year during a special celebration and also like to invite our retirees.
Canteen & food allowances
Our employees can choose between varied and freshly pre-pared meals in the company canteen. We subsidise lunch.
Our sites are conveniently situated and easy to reach by bus, train or car.
In the MAPAL Fanshop, our employees can purchase high-quality workwear, clothing for leisure time, practical items for everyday use and a constantly growing range of items for fans of the company. 
They also get exclusive discounts on travel, fashion, technology and much more. The monthly changing offers can be viewed directly on the Intranet via an online platform or via the corresponding app.
Our employees can park their vehicles or bicycles on our premises free of charge. There are plenty of places available.
We encourage our employees to be healthy. Specialists from the occupational health service advise and support our employees in order to prevent and treat illnesses. They also offer various preventive examinations.
We're also happy to support sporting activities employees take up outside the workplace. For example, we pay part of the entry fees for various swimming, running and cycling competitions or provide you with team clothing.
On top of this, our employees can attend seminars and workshops on the topics of ergonomics at the workplace, exercise, nutrition and stress management.
We take the compatibility of family and career seriously. For us, this also involves supporting our employees with childcare during the holidays. Your children can take part in the MILLER holiday programme and will be looked after for a week. The programme includes various outings, such as a visit to the zoo or a trip to the local fire station.
---
We look forward to hearing from you!
---
---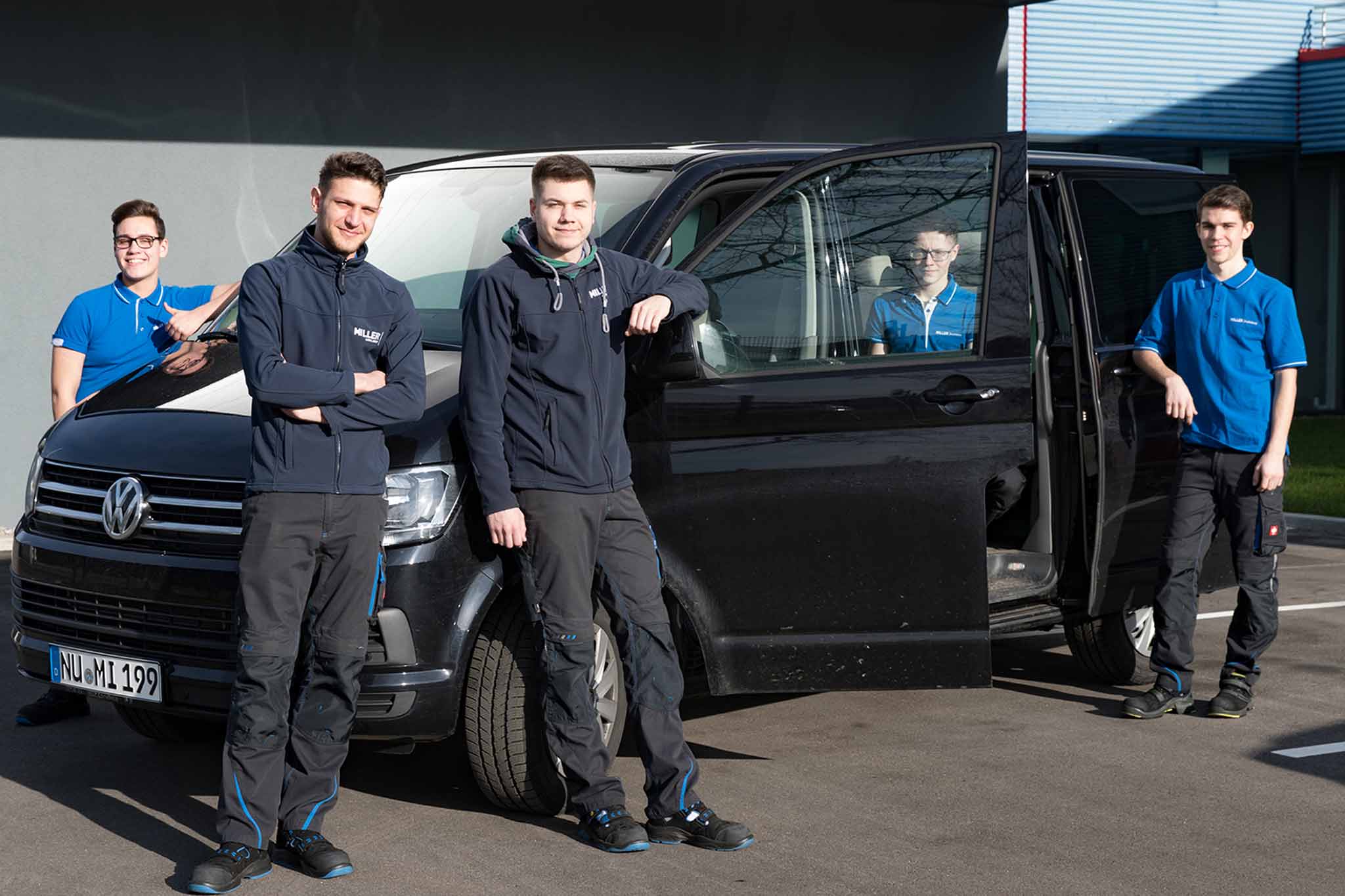 Taking the trainee shuttle to work
Our apprentices can take advantage of our free shuttle service: if they wish, they can be picked up by a driver before work starts and taken back home at the end of the day. "For some apprentices, travelling by public transport meant a long time spent waiting and changing over. The journey could take over an hour," explains Managing Director Tobias Schiele.
---
Additional information