MAPAL in Aalen
Headquarters of the MAPAL Group
This is where you can really feel the heartbeat of MAPAL: Aalen is the location for MAPAL's headquarters – rooted in the region, with international vision. 
Around 1,800 employees at the Aalen site are shaping our present and our future. Almost 130 trainees are on board – out of dedication. As one of the largest employers in the region, we create a clear perspective for the future. We're proud of this.
Become Part of the Team
This input mask takes you directly to our career portal, where you can find out about vacancies and apply directly. The input mask also allows you to filter interesting positions using a preselection. 
​​​​​​​We look forward to your application!
Employee Benefits in Aalen
Enjoying a good work-life balance, having an attractive working environment and participating in forward-looking training opportunities – we share your view of modern working.
​​​​​​​We offer our employees the following benefits.
We regularly carry out occupational health examinations at the workplaces. In this way, we want to determine and maintain physical suitability for certain activities and identify any possible impairments as early as possible. Because your safety comes first at all times.
Of course, our employees can also contact the company medical service outside of these examinations if they don't feel well.
Canteen & food allowances
Our employees can choose between varied and freshly pre-pared meals in the company canteen. We subsidise lunch.
In our company canteen we offer a wide range of hot lunches, which are served to employees in meal trays. Food that employees bring in themselves can also be freshly heated. In the bright and spacious rooms, there is an opportunity to talk to colleagues during the main meal times.
In addition, snack and beverage vending machines are available throughout the company buildings.
We are actively committed to providing equal opportunities for all employees. For example, colleagues from the Council of Employees with Disabilities look after the special interests of people with disabilities, support them and provide them with advice.
Especially during the induction phase, mentors are on hand to offer you support and advice on a wide range of topics.
We support our employees in building up an additional pension plan in order to be able to close any pension gap that may arise in retirement. For all employees, we also offer a monthly allowance for capital-forming payments.
We encourage our employees to be healthy. Specialists from the occupational health service advise and support our employees in order to prevent and treat illnesses. They also offer various preventive examinations.
We're also happy to support sporting activities employees take up outside the workplace. For example, we pay part of the entry fees for various swimming, running and cycling competitions or provide you with team clothing.
On top of this, our employees can attend seminars and workshops on the topics of ergonomics at the workplace, exercise, nutrition and stress management.
Space for personal commitments: As far as possible, our employees can decide for themselves when they start and finish work. Of course, this is done in consultation with the respective department and the other colleagues there. 
Employees working in shifts, trainees, interns and holiday workers work fixed hours because of their dependence on other employees. 
We make room for flexibility. That is why our employees also have the option of working on the go if required.
Participation by employees
We are all one MAPAL – your ideas are an important building block for our joint success. That is why we actively involve our employees in the continuous improvement process, therefore increasing product and process quality. 
Our sites are conveniently situated and easy to reach by bus, train or car.
Our employees can park their vehicles or bicycles on our premises free of charge. There are plenty of places available.
Our employees receive a company car, depending on their position and tasks.
Our company has grown as a family business – and we feel just like a big family. That's why we also want to celebrate together. Depending on the site, there are summer festivals, for example, or even our annual Christmas market. Our MAPAL Football World Cup or European Championship takes place every two years, bringing together colleagues from various sites across Germany and abroad.
Some events are only for employees, others are open to relatives and visitors. 
We are one MAPAL and recognise the achievements of our employees: That is why we honour long-serving colleagues once a year during a special celebration and also like to invite our retirees.
In the MAPAL Fanshop, our employees can purchase high-quality workwear, clothing for leisure time, practical items for everyday use and a constantly growing range of items for fans of the company. 
They also get exclusive discounts on travel, fashion, technology and much more. The monthly changing offers can be viewed directly on the Intranet via an online platform or via the corresponding app.
Digital support as well: During break times, employees are allowed to use the Internet for private purposes, as private matters can also be important and urgent.
As well as this, they will find a wealth of information, services and opportunities for successful collaboration with and at MAPAL on our Intranet pages.
We help families with small children find suitable childcare places. For this reason, we've reserved a number of places in the new day care centre in the nearby Albstift as part of a cooperation with the city of Aalen from April 2019. The fees for day care are paid by the parents.
Modern water dispensers are installed at central locations throughout the company premises. There you can tap freshly treated tap water at any time, either carbonated or non-carbonated. Use of the water dispensers is free of charge.
We offer our employees the opportunity to lease a high-quality bicycle or pedelec. The conditions are favourable because the monthly instalments are financed by deferred compensation. This saves taxes. The bike can be used both for commuting to work and for leisure. At the end of the three-year leasing period, the bike can be returned or taken over at its residual value.
Feel free to contact us!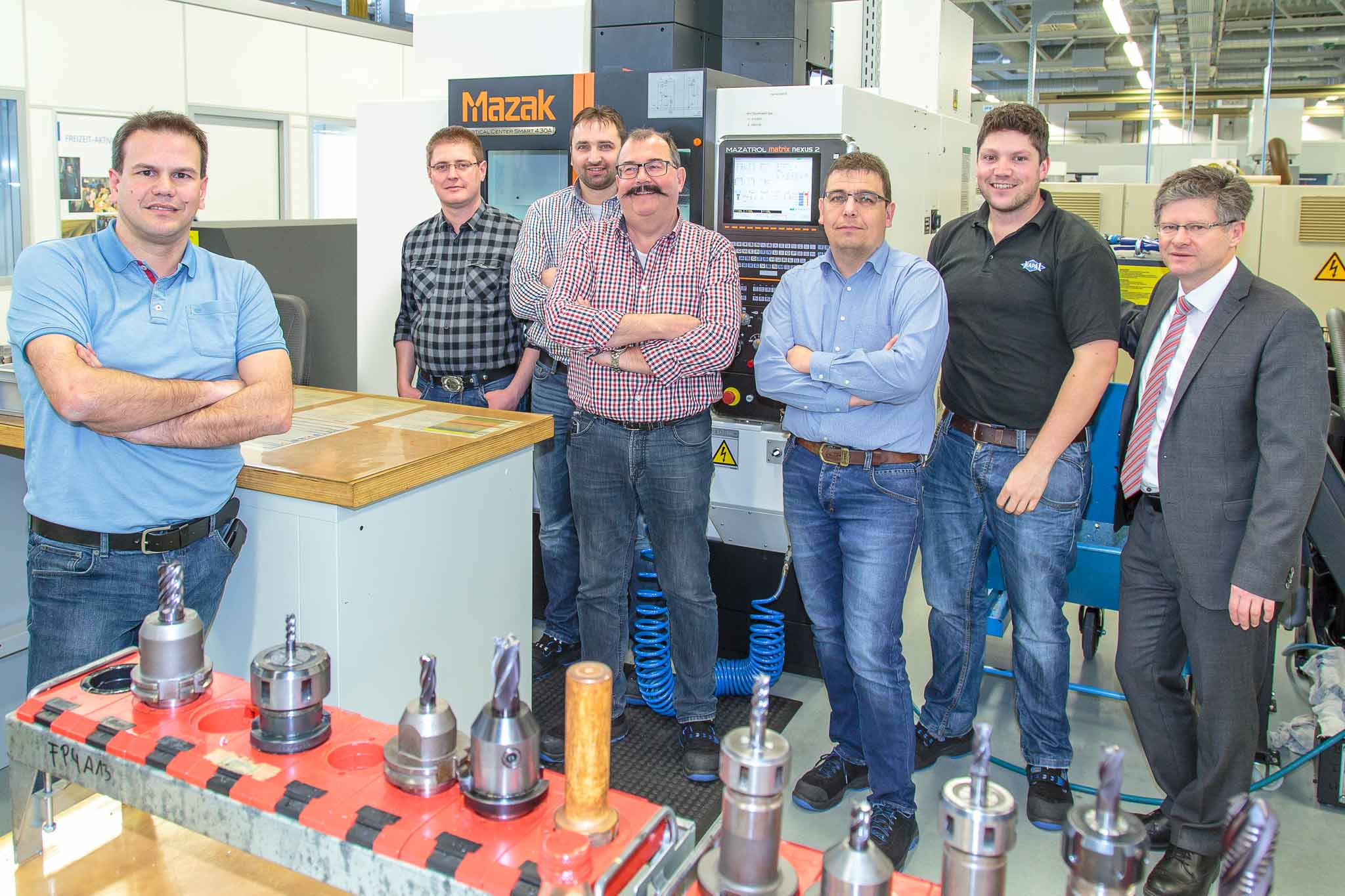 The Training Team at the Aalen Site
The area of apprenticeships is top priority, as MAPAL places great importance on training tomorrow's specialists. There are currently six supervisors at the training centre in Aalen, along with Uwe Heßler, who is in charge of training and apprenticeships, and responsible for the industrial/technical division.
Additional information