01.01.2019
Yet more expertise in tool and mould making
voha-tosec, based in Lindlar, Germany, joined the MAPAL Group in September 2018. Its expertise is strengthening the Group in its market position in tool and mould making. Carsten Klein and Dieter Scheurer, the Managing Directors and founders of voha-tosec, are thereby laying the groundwork for the company, which currently employs 27 people, to maintain its successful course and continue to enjoy healthy growth.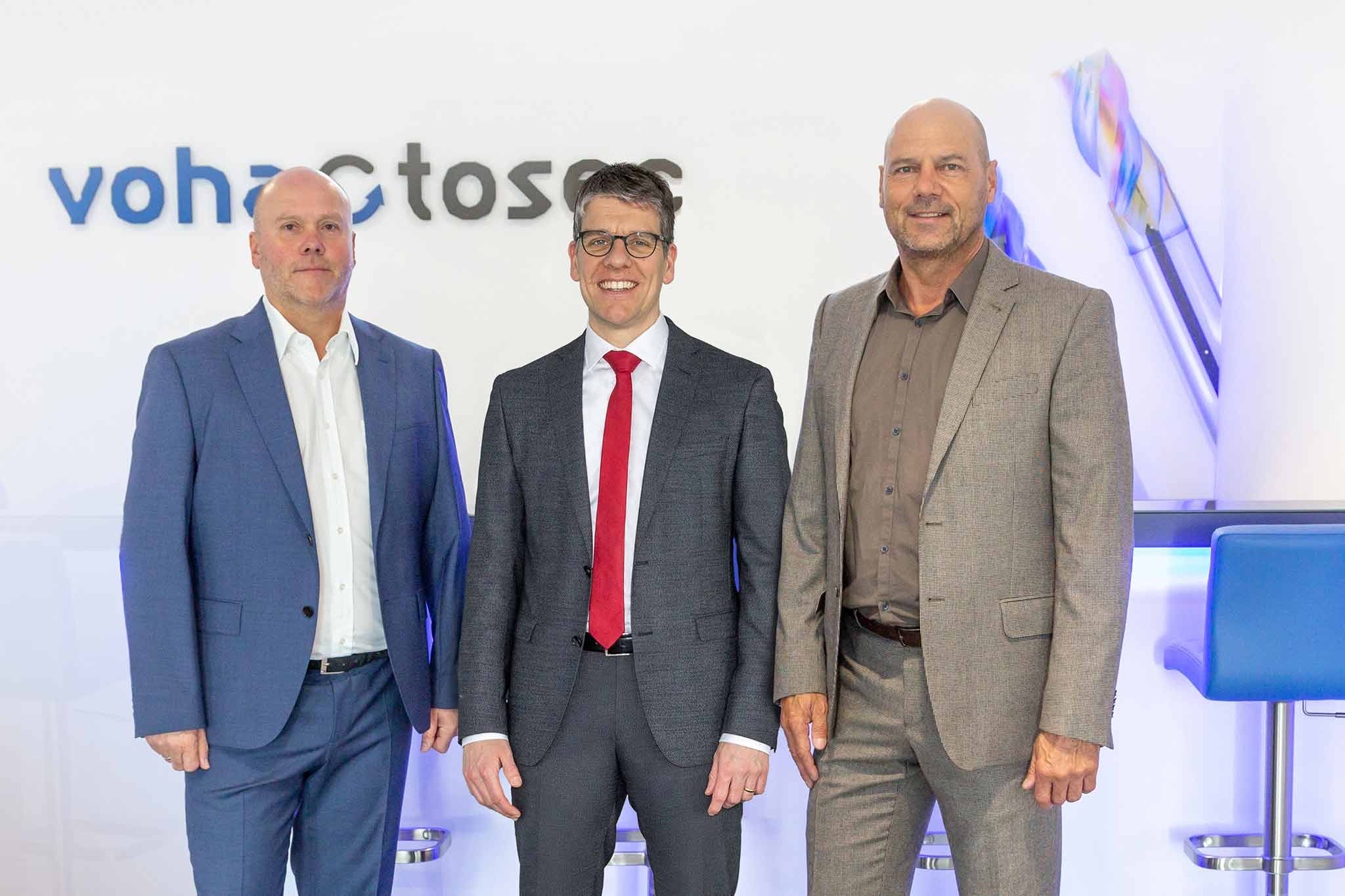 Voha-tosec is the newest member of the MAPAL Group
This cooperation is coming at the right time for MAPAL and for voha-tosec. Because die & mould sector is a growing market. And so MAPAL and the company from Lindlar thought it would be ingenious to pool their expertise. Dr Jochen Kress, President of the MAPAL Group, refers to voha-tosec's broad wealth of knowledge and experience, "which MAPAL will utilise to expand its own involvement in die & mould sector." For Carsten Klein, managing director of voha-tosec, the growth opportunities for his company are what stand out: "We're delighted to be part of the international MAPAL Group. MAPAL's worldwide presence and global sales network offer us the perfect conditions for further development." 
A broad product range for a variety of customer industries: voha-tosec
Voha-tosec specialises in milling tools and related services in the high-performance sector. Solid carbide milling cutters that start from a diameter of 0.05 mm are just as much a part of the portfolio as complex insert tools. Process optimisation and tool reconditioning complete the offer. Voha-tosec is active in many sectors. Customers come from the
•    world of mould, tool and model making,
•    the die marking sector,
•    machine engineering
•    as well as from medical and dental technology.
Suppliers to the aerospace industry as well as the plastics processing industry are also among the customers.

"We are extremely flexible in terms of our structure and invest continuously in the best production and measurement technology," says Klein, explaining the main strengths of voha-tosec. The company works closely with machine manufacturers. Developing customer-specific solutions results in many standard tools which have also propelled voha-tosec to international success. "We place very high demands on the quality of our product, and we also stand out from the crowd thanks to our excellent service," says Klein. If a customer has a problem, "we try to do everything in our power to offer them a solution on the same day." Carsten Klein and Dieter Scheuer intend to stick to this strategy. As part of the MAPAL Group, voha-tosec can now operate with greater impact. Capacity is to be increased rapidly, both in terms of staffing and production equipment.

​​​​​​MAPAL is also increasing its presence on the American continent. The Fountain Inn site in South Carolina has been significantly expanded. In addition, MAPAL opened a completely new plant in Mexico in February 2019. A new production hall at the German site in Altenstadt increases the capacity for solid carbide tools at the centre of competence. "Aside from the new buildings and structural extensions, there is ongoing investment in new machinery worldwide," adds Dr Jochen Kress. "Only this way can we maintain quality and productivity at the highest level."​​​​​​​
Brief portrait of voha-tosec
​​​​​​​​​​​​​​Voha-tosec is based in Lindlar near Cologne and currently employs 27 people. The company was created in 2004 out of the merger of the individual companies voha Vollhartmetallwerkzeuge GmbH and Tosec (Tools, Service & Consulting). Carsten Klein and Dieter Scheuer make up the management team.

Carsten Klein is responsible for worldwide sales, marketing and procurement at voha-tosec. Klein completed a commercial and a technical apprenticeship at the former tool manufacturer Moritz Strasmann in Remscheid. He then held various positions there, most recently as Key Account Manager for major customers. In 1994, he decided to become self-employed and founded the trading company Tosec.

Dieter Scheurer is responsible for commercial management and finance and looks after the key accounts and customers within Germany. Scheurer began his professional career at Klöckner Humboldt Deutz, a former manufacturer of diesel engines, industrial plants and machinery. In search of a new professional challenge, he joined voha Vollhartmetallwerkzeuge as a partner in 1992 and took over operational management there.