16.08.2019
Handling Made Easy for External Reaming of Small Diameters
External reaming - an economical alternative to the traditional grinding process
Fine machining of small outer diameters is often dealt with using grinding processes. External reaming makes an interesting – and cost-effective – alternative. For example, if an IT6 fit needs to be created on a lathe in a series production setting, external reamers with adjustable insert and guide pads can be relied upon to get the job done. This requires the tool's diameter and the back taper of the insert to be set with pinpoint accuracy.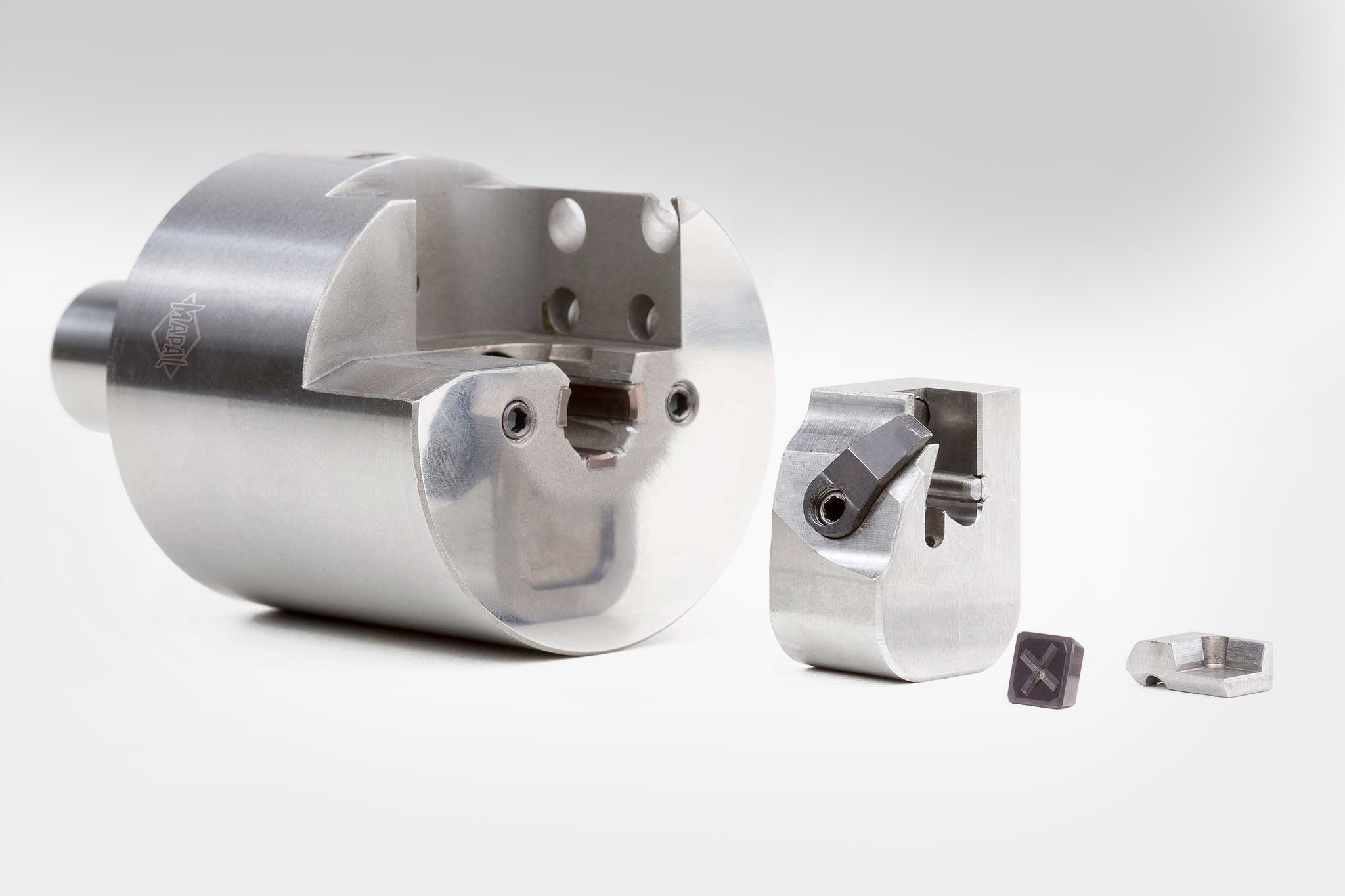 Simple tool setting with the MAPAL EasyAdjust system
Making that as simple as possible was what MAPAL had in mind when it developed the EA (EasyAdjust) system. With the EA system, the back taper of the insert is already integrated in the cassette that serves as insert holder. So there is no need to go through the process of setting the back taper of the minor cutting edge. The only thing that needs to be set is the overhang of the insert with regard to the guide pads. This is generally a quick and simple task. However, that has previously been the case only up to a certain diameter.
In the case of external reamers with small machining diameters, setting is still quite a challenge. A measuring sensor has to be inserted into the external reamer, zeroed to the guide pads and located at the cutting edge to set the corresponding overhang. A procedure that is aggravated by a very limited view of the inside of the tool. This calls for a certain amount of skill on the part of the worker, as well as the right training.
New system for easy setting
MAPAL has developed a new system to make setting external reamers with small diameters a much simpler process. This involves the cassette of the EA System being integrated in an additional cassette. This cassette can be removed, and the insert can be set quickly and easily using a micrometer or a surface plate. The appropriate setting dimension for the insert is engraved on the reverse of the tool. This dimension corresponds to the midpoint of the tolerance for the fit to be created.
Once setting is complete, the cassette is mounted again. The changeover accuracy reaches 2–3 µm. Thanks to this changeover accuracy and the extraordinary simplicity of setting the insert, the new system means that it is now much easier to comply reliably with the required tolerances and extremely precise fits, even in the case of small diameters.
The EA System can be used with indexable inserts with four or six cutting edges. 
 
---