Digitisation at MAPAL
Hien Vo, an e-commerce software developer, reports on her daily work.
The real sprint starts when you start working with sprints. Hien Vo lives and breathes agile processes and knows every single ticket in the backlog by heart. Born in Vietnam, she works with the IT and marketing departments as well as with external service providers around the world to create the best possible user experience for MAPAL's online presence.
"When our stakeholders have ideas about new functions or features on the website, or in the shop, I'm their technical contact. Our team is responsible for the implementation of the consequent backend tickets," says the e-commerce software developer, describing the core of her work in the maintenance and development area. Hien Vo has been with the company since 2019 and primarily acts as a connection point between marketing and IT. Sometimes the requests from marketing are still a little vague from a technical point of view and require a bit of tweaking to come up with a more precise definition. With the help of targeted questions, her job is then to find out which intention lies behind individual requests in order to then offer quick and satisfactory solutions. MAPAL is the first career stop for the bioprocess computer scientist who specialised in automation technology and the Java programming language at the Weihenstephan University of Applied Sciences.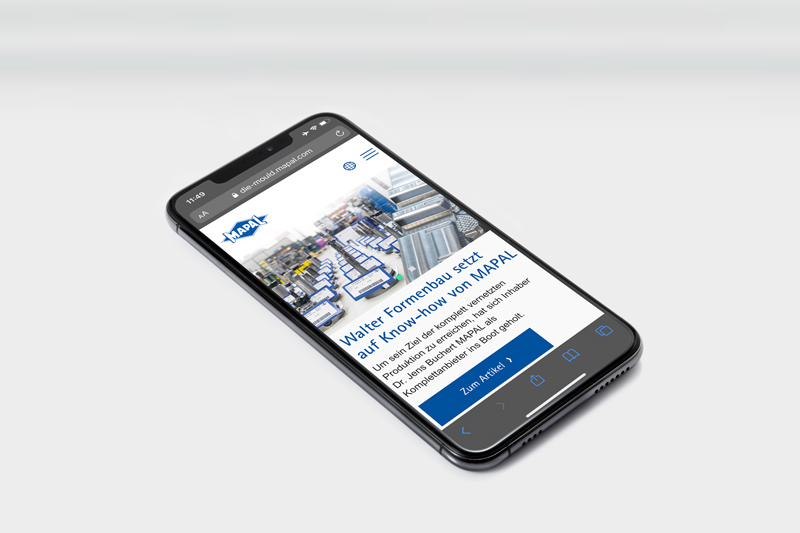 Between CMS and Webshop
"In the beginning I was allowed to implement a lot as well as to get to know the platform and the framework. Over time, I got to take on more and more tasks and I have a great deal of trust placed in me", reports Hien Vo, who occasionally supports her colleagues from DevOps with the deployment of features and bug tickets in the cloud system. She is particularly proud of her ongoing project within the online programme, which includes a CMS and a commerce part. The mapal.com website has been completely redesigned: with new platforms, optimised content and state-of-the-art technology to improve the user experience.
Commitment to promoting talent
At the time, Hien Vo instinctively decided to apply to MAPAL as she was specifically looking for an employer who could offer her exciting prospects. She still appreciates the extremely high priority that the topic of "further education" has within the organisation. She has already completed an English course and a four-day cloud commerce training course in Munich. Her next milestone is already firmly in sight: soon she would like to tackle a job-integrated master's degree in computer science. These courses usually take place in close cooperation between the university and the employer. Among other things, the employer is involved as a mentor and is committed to module-based coordination within the practical part. MAPAL supports her fully in her further training requirements. She has already been assured of that. A clear commitment to promoting talent that has made a lasting impression on her. "Every day has new challenges in store, as my area of responsibility is very varied in terms of content and technology. I think it's cool that you can learn so much here", says Hien Vo, explaining her daily motivation at work.
You can be an important driver for digitalization, there are exciting possibilities waiting for you and our IT.
People Who Work With Us