01.05.2020
For Short Machining Times – Try Whirling Instead of Grinding
MAPAL presents a tool system in ring form with PcBN-inserts.
On ball castors, which are required for applications such as vehicle steering rods and machine drive systems, the thread profiles are often created by grinding. There is a much quicker way, and that is "whirling". MAPAL has developed a tool system for hard machining intended for this very purpose, featuring suitable air nozzles to ensure optimised chip removal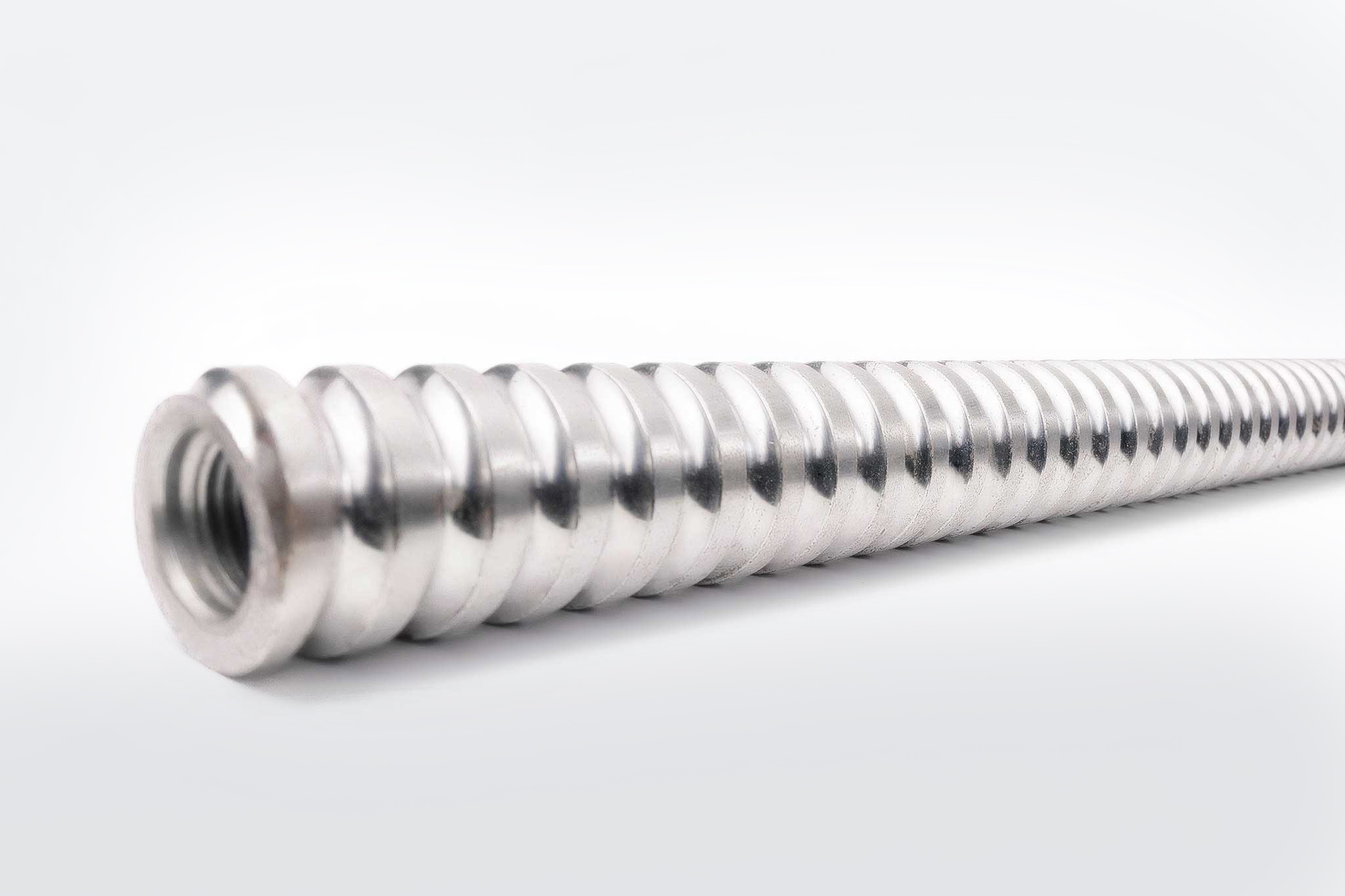 The whirling manufacturing process is something special, combining turning with milling. That means that not only does the tool rotate, but the workpiece does as well. Special machines are therefore required to "whirl". This presents the question of why companies should choose a manufacturing process of this kind when it means investing in new machinery. Michael Gebhard, product management for hard machining, has the answer, quoting a specific application example. "Although grinding is a long-established process, whirling is much, much faster." Specifically, "To manufacture the thread for a steering rack, the grinding process takes more than seven minutes. With whirling, it is finished in 60 seconds." Consequently, when large quantities are involved, purchasing such a machine will pay off very quickly.
When a customer introduced this process, MAPAL developed the tool system to go with it. After all, external whirling on ball castors as part of hard machining has similar requirements for the tool as ball nose milling of constant-velocity joints. "We have been one of the leading suppliers in the field of ball nose milling for years, and we have taken that experience and applied it to whirling," says Gebhard. With ball castors, as with ball nose applications, the contours, contact angle and bevel radius need to be taken into account and the tolerances reliably maintained.
Schneidstoff PcBN bestmöglich nutzen
The ring-shaped tool system developed by MAPAL is fitted with PcBN profile indexable inserts and a PcBN indexable insert that creates the chamfers. Various numbers of profile inserts are used depending on the diameter. Although chamfer machining could be integrated into the profile inserts, this would make regrinding much more difficult owing to the significantly more complex shape. The inserts can be reground numerous times to get the most out of the PcBN cutting material.
The indexable inserts, which are directed inwards, are clamped via a specially developed system. "We have based the clamping on that used for our VersaCut system, which has proved its worth in hard grooving with PcBN," explains Gebhard. The insert is pressed into the insert seat over bevelled edges and clamped effectively using a clamping jaw. Our inserts are clamped directly to the base plate of the tool and not in an additional cassette, which means one connection fewer and thus a positive impact on the axial run-out.
The indexable inserts can be adjusted axially to μm accuracy. "Our system gives us outstanding results in machining", says Gebhard, "although we have identified some room for improvement with regard to cooling."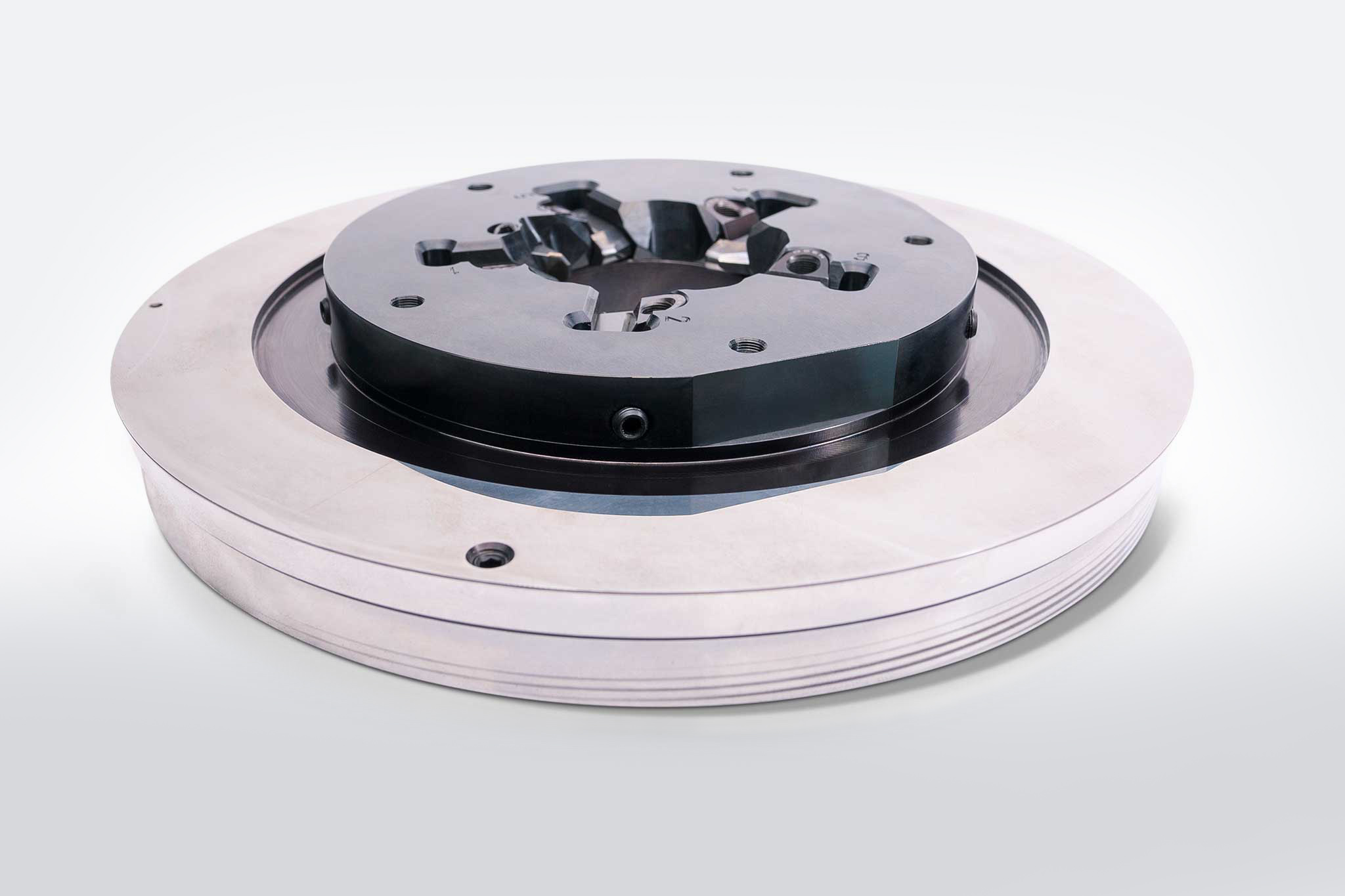 Additiv gefertigte Luftdüsen für prozesssichere Spanabfuhr
Whirling is an air-cooled process. The whirling machines are fitted with two coolant tubes that have to be adjusted to suit each machining operation. "The problem with that is that the tube is easy to move. That means that it occasionally also happens by accident," says Gebhard. If the air supply tubes move, the chips are not reliably removed during machining, which in a worstcase scenario can result in the cutting edges breaking, but certainly means a much shorter tool life.
MAPAL has developed special air nozzles to prevent this from happening. These can quickly and easily be attached to the machine directly behind the tool system. The nozzles are adjusted to the diameter to be machined. The compressed air is directed through the nozzles and split across several ducts. MAPAL has designed the ducts to ensure that the air is aimed at exactly the right places. This has been made possible by additive manufacturing. "With this, we can ensure an optimized air supply and thus chip removal," says Gebhard, "which means that we can offer our customers a complete package to whirl ball castors quickly and reliably."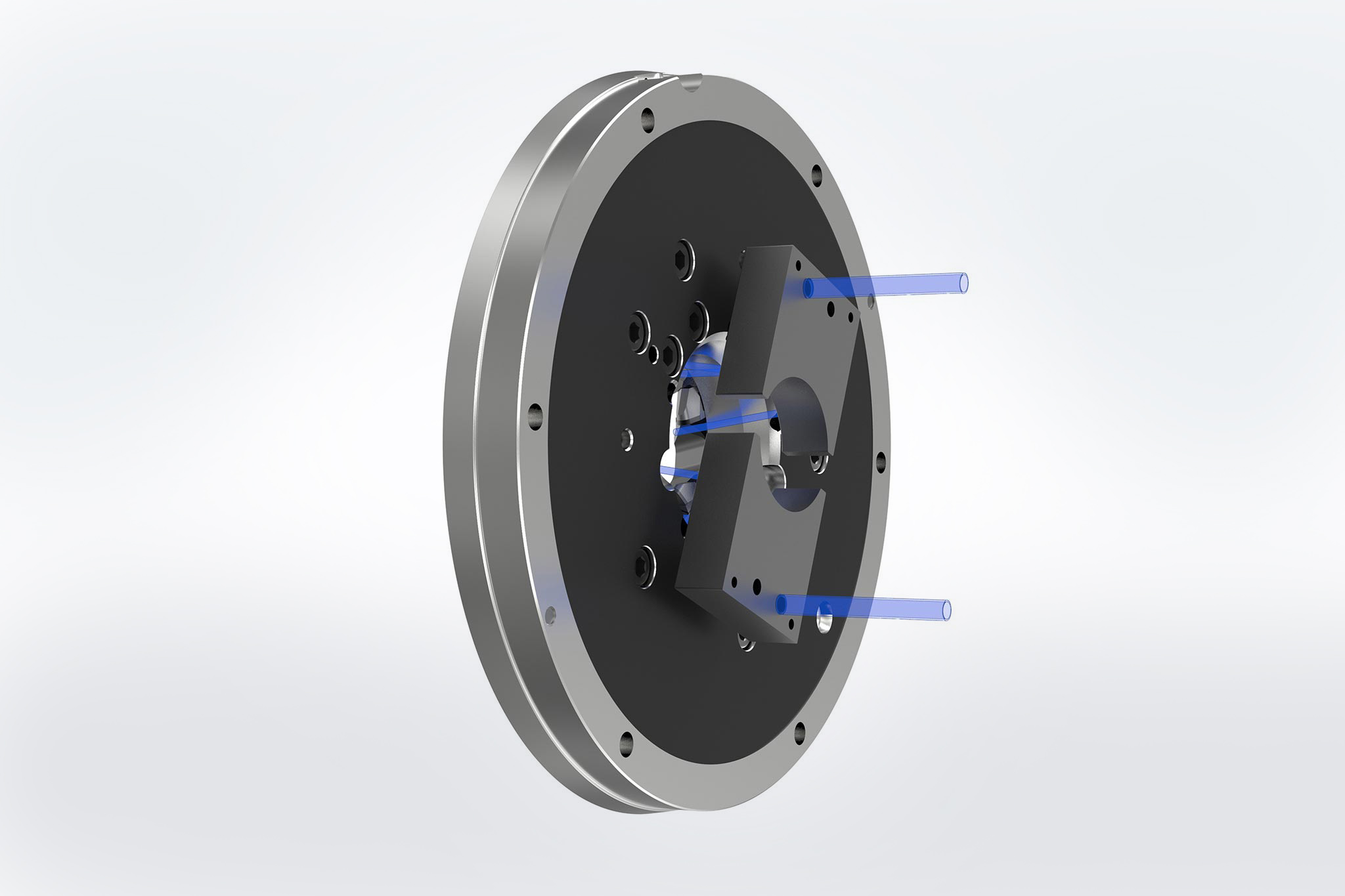 ---