Modular optical setting fixture in the entry-level segment
The portfolio for the digital configuration area is extended by a new setting fixture in the UNISET-V series. It paves the way for fully automated measuring sequences with high-precision camera systems and therefore provides the optimal basis for further process automation. This closes the gap between the existing products from the manual UNISET-C product line for the entry-level range and the premium models of the UNISET-V series for the fully automatic measurement of complex tools with probe and camera systems.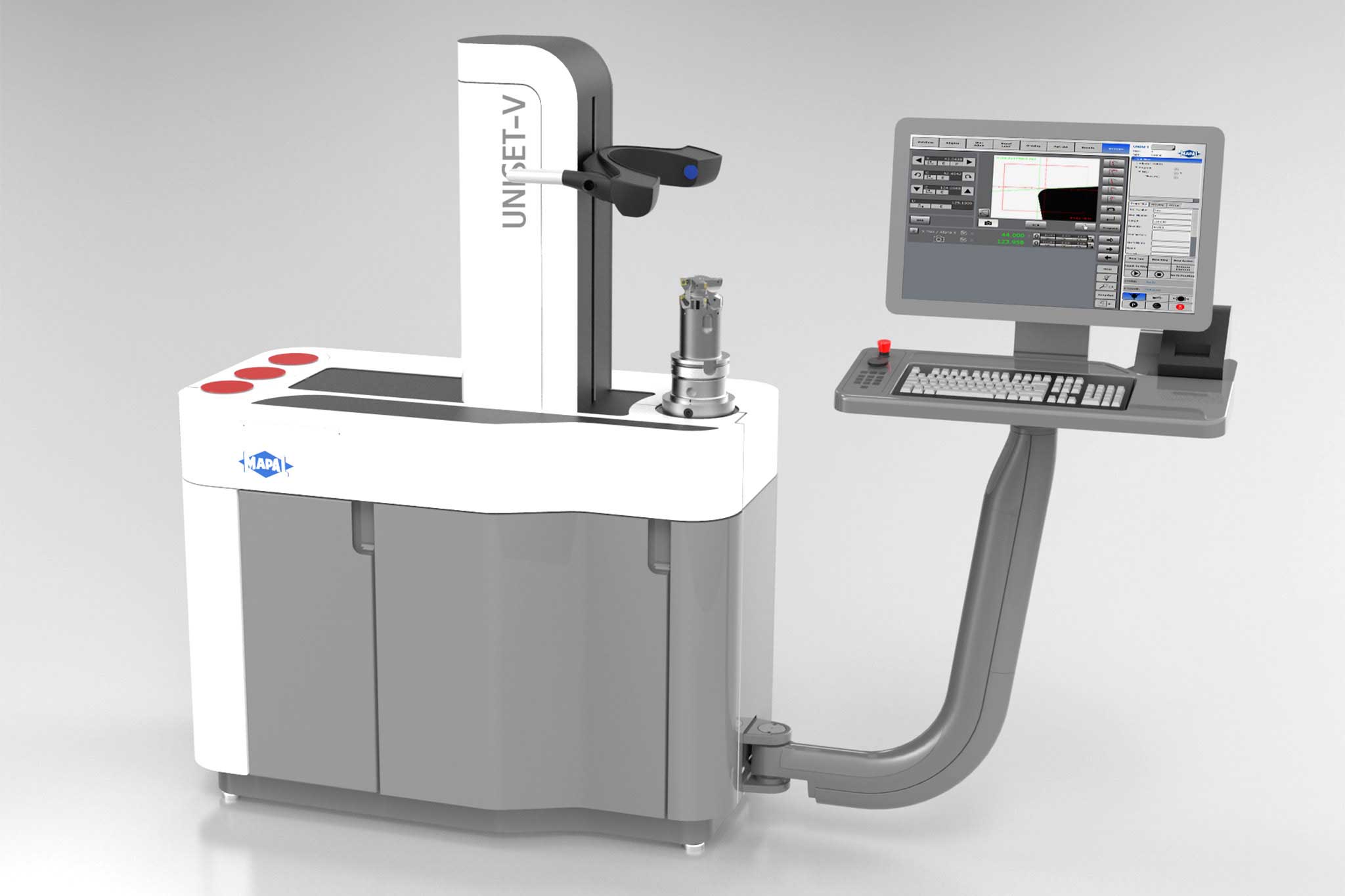 The setting fixture has a compact, vibration-damped design and is firmly connected to a base frame. The good accessibility and accuracy of repetition of ±2 µm allows the tools to be adjusted easily and in a way that is process-reliable. The main focus of the setting fixture is on the measuring yoke with optical measuring camera. Thanks to its linear drive, it can be automatically moved quickly, precisely and silently in horizontal and vertical directions to the desired measuring position.
​​​​​​​
Measuring range up to 1,000 mm
Due to the modular design, the setting fixture can be configured according to individual requirements. Measuring ranges of up to 1,000 mm in terms of tool diameter and tool length can be covered, among other things. Fixed tools, in particular, such as solid carbide or PCD tools, can be measured and adjusted fully automatically using the UNISET-V. Tool weights of up to 160 kg are no problem for the UNISET-V.​​​​​​​​​​​​​​
​​​​​​​
To be seamlessly integrated into existing structures
By using the UNISET software, the new setting fixture can be seamlessly integrated into existing structures. It offers all possibilities in terms of connections with CAM systems, machine tool controllers and the dispensing systems from the UNIBASE product line. Integrated control geometries enable fully automatic measurements on the 24" touch screen within a few seconds. An optional tool chip can be used to call up or log tool data more quickly. Extensions or adaptations of the UNISET software are possible at the customer's request.
Software features:
User-friendly UNISET software
Optional tool identification software with tool chip
User-friendly programming for individual and fully automatic programme sequences
Remote maintenance possible
Additional services selectable (e.g. annual maintenance, programme optimisation, training packages)
Easy and efficient digitalisation with c-Connect
c-Connect is optionally available for the new setting fixture and enables simple and efficient digitisation of tool data. Consisting of a box and comprehensive software, c-Connect offers an option for networking the machining machines during manufacturing easily and cost-effectively and of transferring tool data without errors. 
​​​​​​​
Advantages:
No chance of errors resulting from manual input of tool data into the machines control
Machine downtimes are minimised – c-Connect monitors the machine indirectly via the machine traffic lights
All data is transparent and is still available after tool removal
Unnecessary non-productive time is saved and the machine can be set up faster
Independence from machine control and manufacturer
c-Connect is also available as an offline solution