19.12.2019
Increasing efficiency through tool management
Professional tool management can bring about respectable levels of success, as a current project in India shows. In its new plant in Anekal Bengaluru, Shakti Precision Components relies on the services of the MAPAL India team and is recording significant increases in efficiency.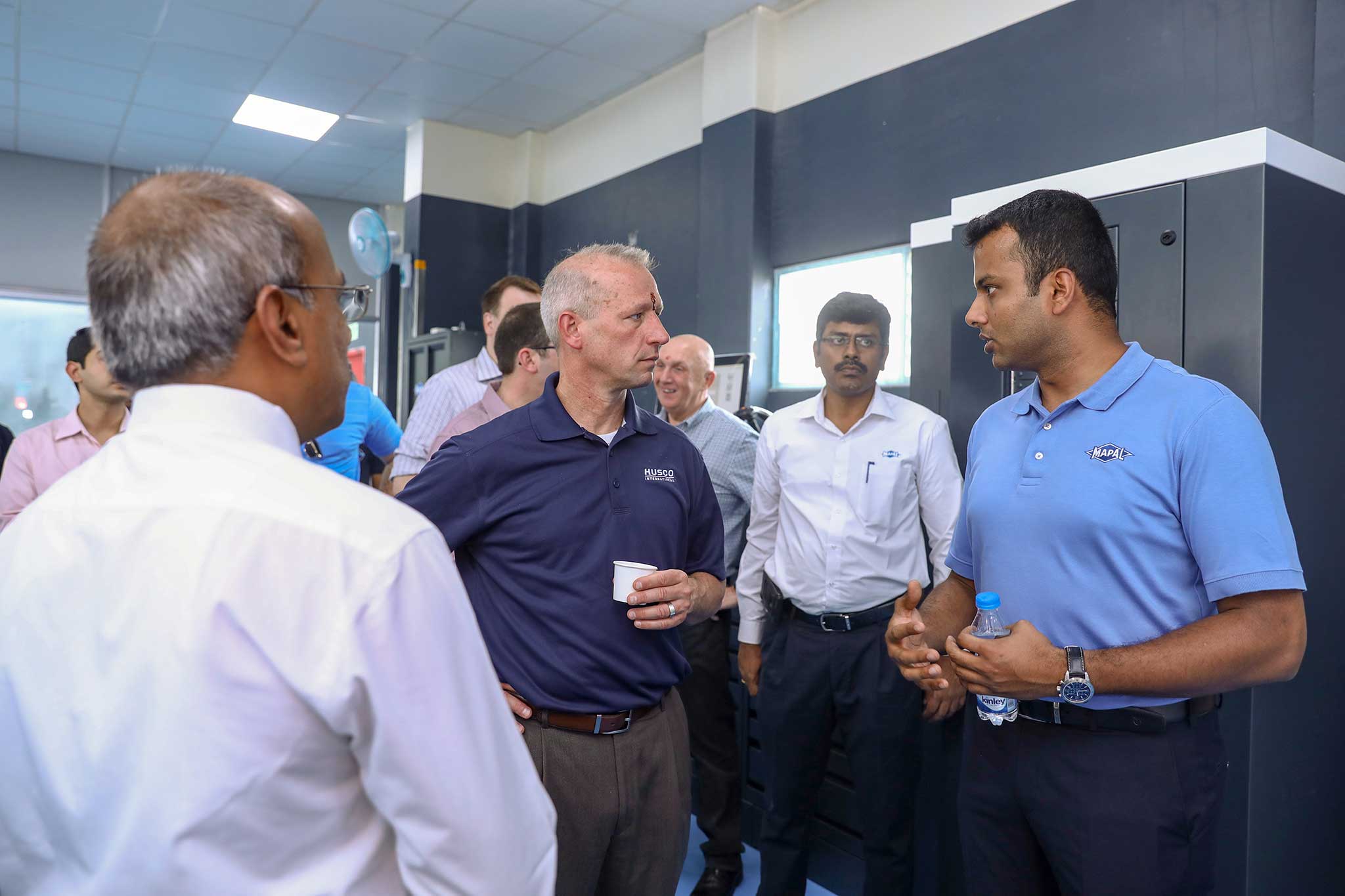 Shakti Precision Components uses the services of MAPAL India in their new facility.
Shakti Precision Components (Shakti) is based in the city of Bangalore and specialises in the processing of precision components for various fields of industry. With more than 25 years of experience, Shakti is one of India's leading providers with an extensive customer portfolio. To satisfy the increasing demand, it was decided to invest in a completely new plant. The greenfield project near Anekal Bengaluru, 35 kilometres south of Bangalore, today spans an area of 1,300 square metres. An office building and a state-of-the-art production facility have been built. The production area provides space for more than 250 CNC machining centres and other machines. 90 of the 100 employees work in production.
MAPAL tool management and setting room
Shakti Precisions Components commissioned MAPAL India with the tool management for the plant. The project scope intended for MAPAL to set up and operate a setting room. The main objective was to eliminate production stops caused by tools that are missing or set incorrectly. A further aim was to increase production quality and delivery reliability with MAPAL as the tool manager. "Further requirements specified by Shakti included optimising inventory management, improving the procurement of tools and other production equipment, and preparing reports and analyses on tool wear," reports Thanigaraj Sripathy, Managing Director of MAPAL India.
Optimized productions- and logistics process handling
MAPAL India and Shakti worked closely together on the project right from the start. All the equipment of the setting room on site was delivered by MAPAL. "It is a great advantage for us that the MAPAL Group offers its own tool dispensing systems, setting devices and other equipment for the setting room. This way we did not have to use external companies for the setting room and could rely on our own products", stresses Sripathy. In order to be able to optimally design the production and logistics processes for the customer, the tool management was decidedly tailored to the needs and circumstances of Shakti during the planning phase. The installed system allows process parameters such as tool life and cutting data to be managed centrally and called up in a decentralised manner by individual departments. For example, the manufacturing and planning departments of Shakti can access important details with a single click. The technology transfer is also made easier, and the exchange can be performed within a specific production facility or across multiple locations. This connected approach allowed Shakti Precision Components to improve its productivity considerably and to significantly increase machine capacity utilisation. The persons responsible at Shakti intend to use this resulting free capacity to become the preferred supplier of their most important customers.
Opening ceremony May 2018
The commissioning of the new plant was celebrated with a big ceremony in May 2018. Representatives from key customer Husko International (USA), MAPAL India and MAPAL Germany as well as numerous business partners and customers attended the event. Bob Mortensen, President of Husko International, officially inaugurated the Husco cell of the manufacturing unit. During the opening event, the MAPAL team presented the tool management services in general and those used at Shakti Precision.
Transparent inventory handling
C.R.N. Murthy, Managing Director of Shakti Precision Components, appreciates the first rate service MAPAL provides during the project startup phase and in ongoing operation: "We are delighted with our great coopera tion with MAPAL and the increases in productivity we have been able to achieve thanks to our customised tool management. The provision of tools that can be used on the machine directly, thereby omitting the setting effort at the machine, is an extremely valuable optimisation of the production process for us." Thanks to MAPAL, Murthy adds, there is now also transparent inventory management, which helps to avoid duplicates and order planning with foresight. All this adds up to a highly comprehensive system that is in use every day. The system, that leaves room for further improvements and new functions, will allow both companies to further develop their cooperation. For example, all CNC machines from Shakti are to be equipped for reading and storing the tool details on tools that are fitted with a chip in the future. With this feature, MAPAL can also monitor the current tool life and therefore draw conclusions as to the total service life and remaining tool life.
About MAPAL India
MAPAL has been active in India since opening a branch there in 1999 and now has more than 150 employees. In addition to administration and customer service, the head office in Coimbatore includes a modern manufacturing facility that is geared to quickly supplying the Indian market with individual special tools. Repairs and reconditioning are also performed here. In addition, MAPAL operates sales and service offices in New Delhi, Pune, Chennai and Bangalore.